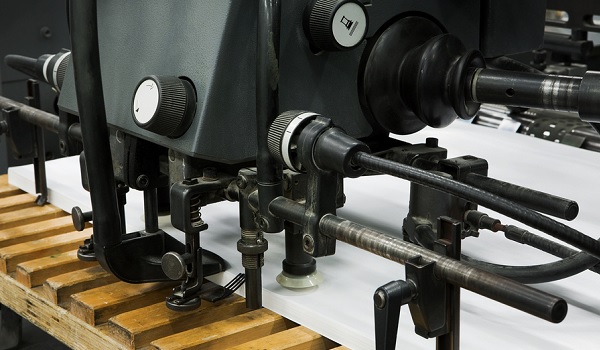 Phil used to typeset my work. I'd send him my copy, marked up by hand and he'd send me back galleys, long strips of single columns of type which the graphic artist would then 'lay out' onto boards, creating pages of book and magazine out of strips of type glued down with 'SprayMount', a highly egregious sprayable glue. We'd size pictures manually, then attach them to the artwork (a box was drawn to give the printers a 'keyline' to place the image in) ready for sending to film.
Then along came Digital Research's GUI, or graphical user interface, GEM and with it Ventura Publisher, a black and white piece of software that let you 'lay out' pages onscreen. I had a chat to Phil about the new software and how he needed to invest in it so that he could run my pages.
'Rubbish! That'll never take off! You can't match the quality of compositors' work, proper typesetting, with that amateur junk!' said Phil.
Within the year Phil had gone bust because his customers were all running out their pages from packages such as Ventura as one single layout, all ready for the printers. I didn't need a graphic artist anymore, either – I did my own layouts onscreen. They might not have followed Caxton's rules of typography, but then we were redefining what you could do with type anyway – for a few halcyon years, drop caps and huge lettering ruled magazine layouts all over the UK.
Ever since then, I have heard people talking about quality as the reason why technology, the Internet in particular, won't disintermediate them. But the amazing fact is that we don't actually care about quality. Some of the most popular videos on YouTube are some of the crappiest pieces of filming. I play my music in my car, ripped from my ultra-high quality CDs and converted to lo-fi MP3s, using an iTrip radio transmitter thingy. The quality of what I am listening to is probably less than that of a chrome cassette.
When technology improves access, quality becomes secondary. And quality is the last refuge of the about-to-be-disintermediated.
This piece originally appeared as one of the chucklesomely named 'A Moment with McNabb' columns in Campaign Middle East magazine.
Tags: communications, Disintermediation, Internet, magazines, media, Newspapers, online, printing, Publishing, web, web 2.0