Follow us on Twitter
@spotonpr on Twitter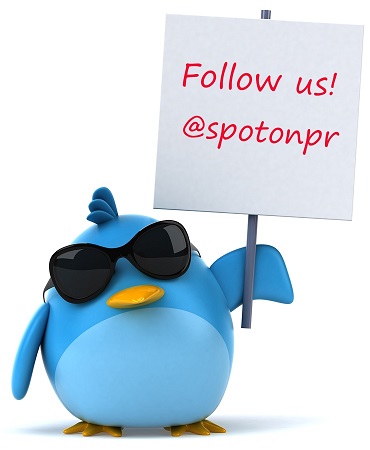 Spot On PR joined Twitter in 2008 and has been addicted to the fast moving micro-blogging platform ever since. Our tweets are mostly about media, marketing, technology and arts in the Arab world including news about media, journalism, PR, advertising, marketing, social media mobile, Internet, start-ups, art, culture and film. We also have a keen interest in freedom of expression, press freedom and net neutrality.
Our business is quite focused on the Arab world and so most of our content is specific to the Middle East and North Africa. We're generally interested in what marketing and media people are doing around the Middle East and so are many of our followers, so we share news, information and tips.
Twitter resources
If you're trying to get the most out of Twitter, you might like these Twitter resources, particularly if your located in or interested in the Middle East and North Africa. You should also look through our MENA Twitter Lists to see who's doing what on Twitter and ideas on Twitter users to follow.
If you're interested on Spot On PR's activities on Twitter, you can read more about how and why the agency uses Twitter, plus links to statistics on Twitter use in the Middle East & North Africa on our Welcome from Twitter page.
Twitter guides
If you're new to Twitter, here are a few useful links on using Twitter:
Twitter 101: Getting started with Twitter
Twitter Guide Book – How To, Tips and Instructions by Mashable
Twitter's Small Business Guide to using Twitter
Spot On's Five Smarter Tweeting Tips
Spot On's Twitter Lists
Here are some of Spot On's favourite Twitter lists. You can follow a list and see all the tweets in your timeline, browse the list's members for ideas on who to follow, or simply click on the list every now and again when you want to see the stream of tweets.
Arab Comedy
Arab Film
Arab Literature
ArabNet 2013 DXB Speakers
MENA Online Shopping
Middle East News (Arabic)
Middle East News (Eng)
MENA PR People
MENA Photographers
Middle East Brands
Media Freedom
Middle East CXOs
Read more about our Middle East and North Africa Twitter lists here.
Our Twitter reading list
Spot On tweets reading recommendations daily about Middle East and North Africa media, journalism, media freedom, social media, e-commerce, digital start-ups, entrepreneurship, Internet statistics, art, film, culture and more. Here are some of our recent 'reading' tweets.
Tweets about "Reading from:spotonpr"
Read more about Twitter
Read more about Twitter on the Spot On blog:
Has news journalism been sabotaged by Twitter? (September 2013)
Happy birthday @spotonpr (September 2013)
MENA Twitter Lists (July 2013)
Causing a stir: Twitter and the news media (January 2013)
Has the Arab Spring turned into a torrent of cash?  (January 2013)
#StopTimeOutDubai rings alarm bells (July 2012)
Five Smarter Tweeting Tips (January 2012)
Can we say Twitter revolution now? Can we? (January 2011)
A tweet in time saves nine (April 2010)
Twitter & Customer Service Survey (March 2010)
Tweets like grains of wheat (February 2010)
5 reasons Spot On PR uses Twitter (January 2010)
Life without Twitter? (December 2009)
Spot On PR's MENA Twitter Demographics & User Habits Survey (September 2009)
Is social media making the Middle East more 'social'? (February 2009)
Connect with us
'Like' Spot On PR's Facebook page