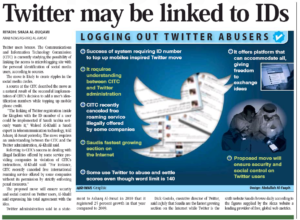 'Biting the hand that feeds IT' is UK-based The Register's amusing theme line, a reference to the IT news website's irreverent editorial style, which often has harsh criticism for IT company announcements, spokespeople and other IT news. This week, Saudi Arabia's English language newspaper the Arab News seems to have decided to do some biting of its own, running a front page story about the Kingdom's telecommunications regulator CITC's plans to regulate access to Twitter.
To the surprise of many, Saturday's Arab News cover story headlined 'Twitter may be linked to IDs' quoted unnamed sources at the CITC, and began 'Twitter users beware'. Stories about Twitter and the Middle East have made headline news since the early days of the Arab Spring. Following the recent global stories about the CITC's urgent request to the country's telecom providers to recommend ways of monitoring mobile chat and VoIP apps such as Skype, Viber and Whatsapp, the newspaper's front page story pretty much guaranteed global news coverage. As one of two main English language newspapers in Saudi Arabia, the Arab News website is monitored by news organisations across the globe and often quoted in media stories about government announcements in Saudi Arabia. Saudi government plans to regulate access to Twitter accounts, denying anonymity to Saudi Twitter users is big news and its front page position ensured that newswires wasted no time in filing the story.
Twitter has a huge following in Saudi Arabia, with 51% of Internet users surveyed by digital research firm Global Web Index stating that they use Twitter: the highest rate in the world. According to Global Web Index, active Twitter users in the Kingdom have grown by 56% over the past year (from Q2 2011 to Q2 2012). In a country that has ubiquitous restrictions on media, free speech and communications, Twitter has become a key communications platform for both advocates of reform and civil liberties, and those that simply want real-time updates on what's really going on without the media filtering.
Despite running the Twitter regulation story front page on Saturday, the Arab News removed the article from its website later the same day. Removing the story in the wake of global media coverage, was clearly shutting the door after the horse had bolted and so one can only assume that the newspaper succumbed to pressure. Did the Arab News jump the gun on breaking news of CITC plans or was Saturday's story a brave exposé? Either way, all eyes will be on the CITC as it considers regulation for social media and online communication services.
Read our tweets
News recently tweeted by Spot On about Twitter and Saudi Arabia (via Twitter)
Read more about Internet regulation
Are brands at risk from the UAE's new cyber-crime law? (March 2012)
The Freedom Meme (September 2011)
Who's Afraid Of A Regulated Web? (May 2011)
Sign-up for reports & updates
If you would like to receive reports and updates from time-to-time by email click here to join Spot On PR's mailing list.
Connect with us
'Like' Spot On PR's Facebook page
Watch Spot On PR's Youtube channel
Tags: Arab News, Carrington Malin, CITC, cyber law, Internet, law, media, media law, Newspapers, regulation, Saudi Arabia, social media, telecom, Twitter