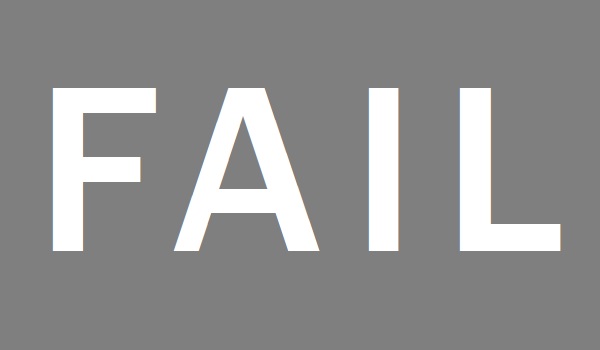 There are lots of great blog posts around these days on reasons for companies failing with social media programs. Usefully, these are often titled something like: "The N Reasons Companies Fail at Social Media", where N is a number between 3 and ten (I've listed some nice ones at the end of this post). Well, not to be controversial, but very often failing social media programs have one single common reason for failing and that's lack of commitment.
Social media can be like falling off a log for Internet-savvy individuals or small businesses where clued-in owners/partners can take an hands-on role in their own social media campaigns and communicate credibly and effectively. However, when you're a larger organisation with general management and departments for marketing, sales, operations and customer services rolling out a social media program can prove to be a real challenge, because social media challenges the way that larger organisations traditionally communicate both internally and with their audiences. In fact, social media can actually change the structure of a company. The difference between that challenge being met head on and it being a challenge that is ultimately walked (or even run) away from is often down to whether the company has made the commitment to take social media seriously to start with – not simply as a marketing tactic but as a new approach to the way the company interacts with its customers.
Social media marketing requires both management buy-in and an internal commitment to make social media programs work. There is a fuzziness about social media that many larger organisations are understandably quite uncomfortable with. It's not tightly accountable (although it is infinitely measurable), can be very time-consuming and its often difficult to judge whether a social media activity is valuable community building that will pay the organisation back in spades later or turn out to be a complete waste of corporate time and resources. Many companies have decided that using Facebook during office hours should not be allowed because its a personal activity, not a company one. More frequently these days, companies that have tasked their marketing departments with starting social media programs now take the view that when the marketing team uses Facebook it's 'work', but when anyone else uses Facebook it's a waste of valuable company time. Not an unreasonable policy, but one that doesn't always work for companies trying to engage audiences effectively via social media.
Commitment to social media must ultimately go deeper than delegating someone in the marketing department to start a social media program and leaving them to make it a success in their spare time. It also must be prioritised, planned, discussed, included in staff objectives, measured and reviewed. Very often this isn't the case because, whilst the CEO may have given his/her blessing to the idea of taking the company's brand into social media, social media may still be viewed as a low-value activity that doesn't merit management time. As with many company projects, where social media has been delegated to an employee that is enthusiastic about the subject and 'left to it', the company can still expect some positive results and this can be a great way to start. However, in an increasingly competitive and busy social media environment, you need a plan, strategy, resources and leadership. And that's going to take commitment.
Links
Five reasons corporations are failing at social media (mengel musings, Oct 09)
10 reasons why brands fail on Twitter / social media (Jun 09)
7 reasons your social media marketing failed (Stuntdbl.com, Jan 09)