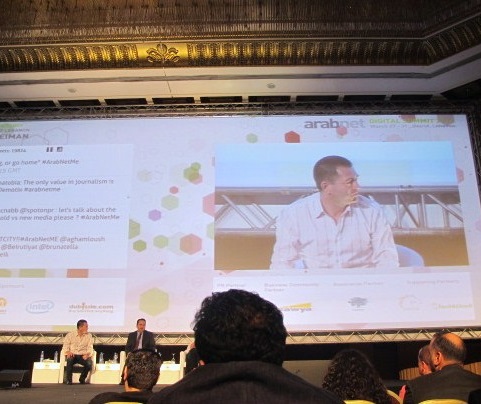 The ArabNet Digital Summit will take place in Dubai from the 24th-26th June 2013. It's the first time ArabNet has been held in Dubai – the event launched in Beirut back in 2010 and instantly established itself as the Middle East's premier regional digital event. We knew a winner when we saw one and we've been ArabNet supporters ever since!
Why is ArabNet so successful? You would be forgiven for wondering how a Beirut based event could lay claim to being truly regional, for instance.  But its location was key to the event – developers, young entrepeneurs and others involved in the creation of intellectual property flocked from nearby Egypt and Jordan. Although there were a number of older heads travelling from the Gulf, it was ArabNet's accessibility to the engine room of regional digital growth that really built that early. Young people who'd have to think long and hard about the cost of travelling to the Gulf could literally hop in a car or a bus.
The other key element driving ArabNet's rise and rise has been, simply, timing. As someone pointed out at ArabNet 2011, "This year is the year of ecommerce in the Middle East. Like last year and the year before that." It was a fair point – the region is an ecommerce laggard. But technologies like cloud and the impetus of the global financial crisis have fuelled a new entreneurialism in the region, fostered by the likes of Oasis, Wamda and Seeqnce.  According to Sindibad Business, investment in MENA startups has jumped tenfold over the past three years. ArabNet, positioned squarely as the startup communities premier meeting place, has gone from strength to strength as a consequence of the increased recognition of the pivotal role of online platforms and technologies in the Middle East.
It's one of the reasons Spot On has been such a keen supporter of ArabNet – the event has done a great deal towards building not only awareness of the potential for online , but in fostering opportunity and growth for companies embracing the 'new media'.
The move to take the 'Digital Summit' – the conference element of ArabNet and move it to Dubai is a timely one. As an established brand and respected event, ArabNet brings considerable strength and experience to building a Dubai event. It also recognises Dubai's pivotal role as a shop front for the region's digital and technology industries. You might develop software in Jordan and you might put your call centre in Cairo – but you're absolutely going to put your regional sales and marketing operation in Dubai.
Which is just what ArabNet's doing  – opening up the event to regional media, regional decision makers and regional marketers in a way never before possible.
Facing the content crunch
Spot On will be there, of course – I'll be talking about how companies are facing a 'content crunch' and having to find, create and share content that makes them relevant to their customers.  It's a huge challenge for marketers moving forwards – just what have we got to say about our company or its products and services that would make people want to talk to us? And if the answer doesn't seem clear, you're by no means alone.  We'll be looking at how brands can use content to compete for eyeballs, clicks and customers – and at ways of cutting through the increasing amount of clutter out there, too!
Sign-up for ArabNet
The ArabNet Digital Summit takes place 24-26 June 2013 at Atlantis The Palm in Dubai.
Find out more about ArabNet Digital Summit
Register now for ArabNet Digital Summit
Contact us
If you would like help with your content strategy or would like to meet up with us at ArabNet contact us now.
Read more about content
Are you being genuine? (May 2013)
Flipboard and the future of content (April 2013)
Tags: arabnet