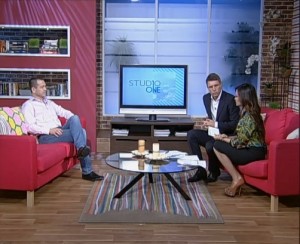 The chaps at Studio One wanted to explore how best to use social media, especially if you were starting out with a small business. What top five tips could we give an SME.
Naturally, as so often happens with these things, we didn't really stick to the top five tips and then ran out of time, so here are those tips to go alongside the conversation we did have, which ranged from time management to brands who keep asking the same questions because they think that's 'engagement', the elusive grail we are all told by 'experts' is the very essence of social media and which so few of those experts appear to understand. You can watch the interview to find out more, but here are five tips for small businesses looking at setting up social media accounts.
Listen – Don't just go in there all guns blazing. Find out what people are saying first. It's like being in the kitchen at a party. Do you really want to bluster in talking about the biggest T-bone steak you've ever had if the room's full of vegetarians?
Have an objective – Know why you're doing this. It's going to cost you time and money, so have an objective to measure success against! Link objectives to outcomes wherever possible – do you expect sales or mainly awareness? Is a Facebook 'Like' really a good objective? Your objective is your goal, something solid to achieve. A good objective, for instance, would be 'create a community of a thousand interested potential customers who interact with us regularly in conversations around beauty tips, wellbeing and a healthy lifestyle.'
Plan your story – You're going to have to have something to say. Content planning is critical. Which platforms do you want to use and what will be each platform's purpose? Being personable online only goes so far. If you'd like social media users to advocate choosing your brand, then you need to give them something they can believe in. And that's typically fostered by sharing great content.
Resource – This is not a junior/intern role. It's resource intensive and requires smarts. It's not slapping an F logo on your advertising, either! There are many ways to structure social media management, delegating the definition of your positioning and online persona to an intern isn't a good structure!  Use automation tools such as scheduled posts but above all be ready to invest your time.
Engage – You need to be actually talking to people, not broadcasting at them. Social media brings huge opportunities for one:one marketing, don't blow them by alienating your whole audience with daily press release-talk, but use the opportunity to share your story, talk to your customers, take their input to hone your business and be open and receptive to their feedback.
Watch the interview

Dubai One TV Studio One- 9 June 2013 (6.51 mins)
Ask for help
If you would like help planning your social media campaign contact us now.
Listen to a podcast about online advertising
Online advertising in the Middle East (Dubai Eye 103.8FM, February 2012)
Read more about social media marketing
Should you outsource your conversation?
Facebook bigger than newspapers? So what?
Twitter & Customer Service Survey
Connect with us
'Like' Spot On PR's Facebook page
Tags: Alexander McNabb, Arab, Arab World, communications, Content, digital marketing, Dubai, Facebook, marketing, MENA, Middle east, Online marketing, PR, public relations, social media, social networking, Twitter, UAE, United Arab Emirates, Youtube