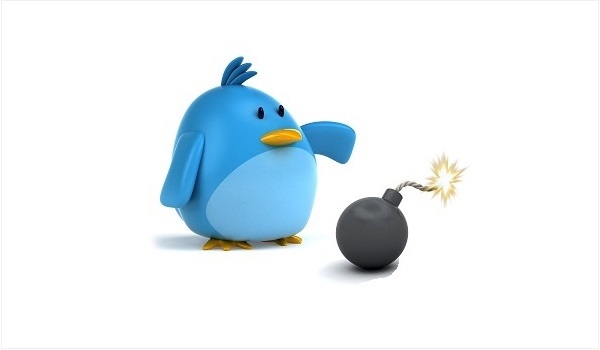 Talking Twitter on the Business Breakfast is always a pleasure and this morning no less so than usual. The question was, "Has news journalism been sabotaged by Twitter?" and my answer was pretty much a resounding "Yes!"
There are three major problems with Twitter and news journalism, I think. One is the challenge of real-time – rushing to try and get the story out at Twitterspeed means out of the window goes all that careful fact checking and old-fashioned concepts like two sources. And, really, our tweeting journalist is no different to a tweeting bystander.
Listen to the full Dubai Eye 103.8FM Business Breakfast discussion via podcast

The second is sourcing. Sourcing a story from Twitter (my personal pet hate is the practice of re-contextualising a few gripey tweets and running with "Twitter Outrage At Man Found Dead In Graveyard") is a dangerous thing, indeed. If you're close to the coalface and know the witness personally (as, indeed, a few years ago Jess Swann and I were to eyewitness Albert Dias, who helped us break the National Paints fire story in dramatic fashion on Dubai Eye radio) you're good, but Twitter is effectively Lorentzian – the further you get away from the source (which happens with blinding speed) – the more chaotic the chatter gets. This is not just a Twitter issue – look at the problems of sourcing video and other materials from Syria news organisations have faced.
The third is the role of the eyewitness. As we discussed on the program this morning, instead of rushing to help these days, people are rushing to record. I shudder at the thought the last thing on earth young Neda Agha, the Iranian girl killed during protests a couple of years back, saw was a Nokia logo shoved in her face. By amplifying and, yes, encouraging eyewitness reports, traditional media is in danger of impelling citizens into situations of danger. Again, that's not just a Twitter thing, as we mentioned on the show today's concert goer can't see the stage for a sea of smartphones held up to record the event people should really be experiencing rather than filming to share on Facebook.
But the real kicker is the way we, the consumer, are taking on board news and events. We mix traditional media with non-traditional, eye-witness reports with unfettered opinion and have evolved new ways to editorialise the news and information we're exposed to. Nobody depends on a single source for all their news anymore. Which is rather ripping the guts out of traditional media revenue models.
Alexander was also interviewed on this subject by Dubai One TV earlier this year. You can watch the video in this blog post: Twitter and the news media.
Need help?
If you would like help with your brand's social media strategy, or, indeed, your news organisation's social media strategy contact us now.
Read more about Twitter
Happy birthday @spotonpr (September 2013)
MENA Twitter Lists (July 2013)
Causing a stir: Twitter and the news media (January 2013)
How 'social' was GITEX 2012? (21 October 2012)
GITEX 2012 Social Buzz (8 October 2012)
#StopTimeOutDubai rings alarm bells (25 July 2012)
Five Smarter Tweeting Tips (22 January 2012)
Should you outsource your conversation? (19 January 2011)
Twitter & Customer Service Survey (29 March 2010)
Follow us on Twitter
Tags: Alexander McNabb, Disintermediation, Dubai Eye, journalism, media, news, social media, Twitter