We've seen a sharp increase in interest in our Middle East and North Africa Facebook Demographics report from last year since Egypt's reported moves to block the social media platform following public protests on January 25th, 2011. For this reason, we've just updated the Egypt country section of this report, which you can download as an Adobe Acrobat file.
Egypt still leads the Arab world in numbers of Facebook subscribers, with 5 million members and has the largest number of users of Facebook's Arabic interface (2.2 million Facebook Arabic users in Egypt, versus 1.8 million in the Kingdom of Saudi Arabia). 30% of Egypt's 17 million Internet users are Facebook subscribers: up from 20% in May 2010.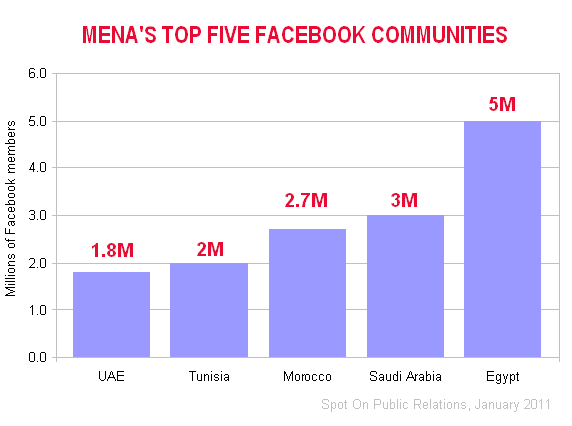 Nearly 3 million of Egypt's 5 million Facebook subscribers are under the age of 25 years old (58%), making it one of the youngest Facebook communities in the MENA region. 63% of Egyptian Facebook members are male.
Survey Downloads
Egypt Facebook Demographics (January 2011 update)
Middle East & North Africa Facebook Demographics (May 2010)
Want to read more?

If you liked reading this post about MENA Internet users, you might like some of our other Internet demographics and habits surveys:
MENA Consumer E-commerce Habits Survey (September 2010)
MENA Internet Habits Survey (July 2010)
Twitter & Customer Service Survey (March 2010)
Spot On PR's MENA Twitter Demographics & User Habits Survey (2009)
Connect with us

'Like' Spot On PR's Facebook page
Tags: Arab World, Arabic, demographics, Egypt, Facebook, MENA, Middle east, North Africa, reports, research, social media, statistics