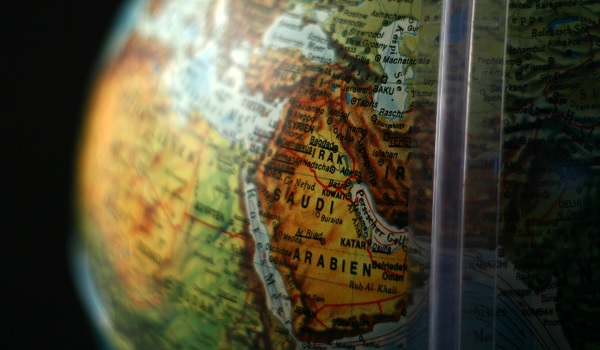 Scroll down the page for survey download links
The figures in our new Media Consumption & Habits of MENA Internet Users Survey simply confirm what everyone involved in the Middle East's growing digital marketing industry has already been talking about for the past year or two: Internet connectivity has become pervasive amongst many of our key target audiences and is now a significant part of their daily lives. The new research survey conducted by Effective Measure in conjunction with Spot On PR, underscores that the Internet opportunity is not just something that exists in the USA or Europe, its right here in the MENA region too. It's not just a rich thing. It's not just a youth thing. (And its not just a Facebook thing either). The Internet's reach is now much broader than that and its influence in the Middle East and North Africa is now truly rivalling its traditional media counterparts and providing marketers with real (and highly measureable) alternatives.
Here are some of the survey's key findings:
– MENA Internet users now spend more time browsing the Internet than they do watching TV.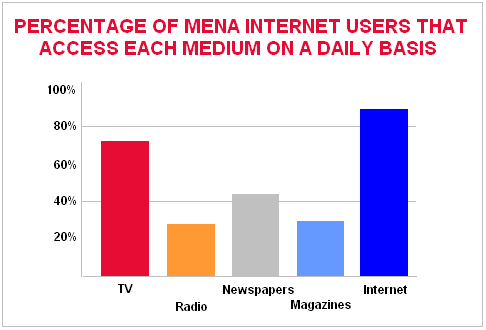 – 88% of those surveyed stated that they access the Internet daily
– 71% of those surveyed stated that they watched television daily.
– Most traditional media have peaks and troughs in attention. Radio and newspapers achieve peak share of audience in the morning. Television audiences peak in the evening. However, the Internet holds audience attention fairly consistently throughout the day and well into the night.
– 28% more respondents watched TV during peak viewing hours than when viewership is at its lowest, at 7%),
– 20% of respondents stated that they use the Internet at any time-period surveyed, peaking at 33% in the evening (just 13% higher than the lowest period).
– Predictably, 73% of the survey's respondents cited email as the activity they most often carried out online, ranking abover all other online activities.
– Social networking and search activities followed as the next highest ranking online activities for MENA Internet users, all coming it at about 40%.
– 54% of Internet users surveyed used mobile applications daily.
– 79% of Internet users surveyed spent up to three hours per day updating their social networks. 20% spent more than three hours updating their social networks.
– Internet users were more positive to companies and brands using "Internet marketing" than they were towards companies and brands using "social media marketing".
– Most responses to our survey showed little variance between male and female respondents. However, there were a number of notable differences between the genders in their stated experiences with social media.
Survey Downloads



Download the full survey report (PDF)
Download the press release (English, Word doc)
Download the press release (Arabic, Word doc)
– – – –

Media consumption & habits of MENA Internet users by Effective Measure and Spot On Public Relations is licensed under a Creative Commons Attribution-No Derivative Works 3.0 United States License.
Want to read more?



If you liked reading this post MENA Internet users, you might like our other Internet demographics and habits surveys:
15 Million MENA Facebook Users – Report (May 2010)
Twitter & Customer Service Survey (March 2010)
Spot On PR's MENA Twitter Demographics & User Habits Survey (2009)
Tags: communications, demographics, digital marketing, Effective Measure, Egypt, Facebook, habits, Internet, magazines, marketing, media TV, MENA, Middle east, Netlog, Newspapers, North Africa, radio, research, Saudi Arabia, social media, social networking, Spot On PR, statistics, survey, Twitter, UAE