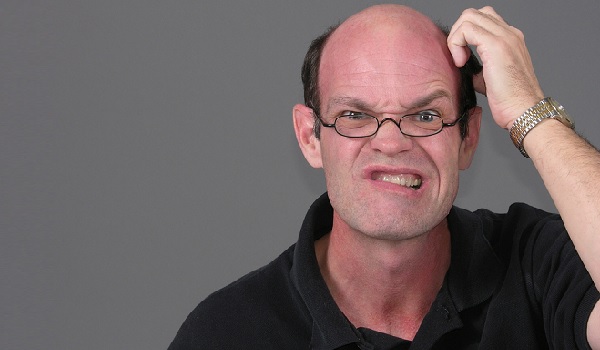 It's that time of year when digital companies all over the world punt annual sum-up reports in an attempt to generate some nice end-of-year publicity (watch out for ours!). Google's popular Zeitgeist online report on popular search terms has just been published and it makes interesting reading for those watching search trends and online behaviour. However, those of us that have been following the report for the past couple of years will notice that Google seems to have changed its methodology here. For example, last year 'Dubai' and 'Facebook' were announced to Middle East media as the top two search terms for the UAE and in 2011 the top two terms were 'Youtube' and 'Facebook'. Results for any three of those terms dwarf the volume of local search results for Zeitgeist 2012's top UAE trending search term 'Gangnam Style' (see Facebook v. Gangnam on Google Trends here). Has Google been focusing on a different set of data in its media briefings and hopes that no one will notice?
And now back to this year's report! The word 'Zietgeist' is German in origin and simply means 'the spirit of the age' or 'spirit of the time'. Google's Zeitgeist report can be fascinating, since search trends help to illuminate what's been on people's minds most during the past year.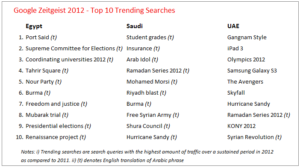 The Zeitgeist 2012 report
The Zeitgeist 2012 report ranks popular search terms from 56 countries including three Arab states: Egypt, the Kingdom of Saudi Arabia and the United Arab Emirates. These are often the three largest consumer markets for brands in the Middle East region and so it may not be much of a surprise to marketing professionals that report's results for each country are quite different indeed. They may also contain some important lessons for marketers.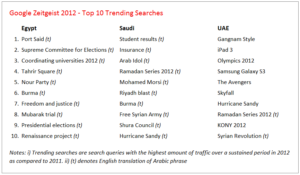 Here's Spot On's quick review of how the top ten Google searches in each country differ:
The UAE searches for global news, technology and entertainment
– Eight out of the top ten Google searches from the UAE were English language search terms and only two were Arabic search terms. In comparison, all Saudi's and Egypt's top ten searches were Arabic language terms.
– The global phenomenan that is Gangnam Style was the most searched for term by Google users in the UAE during 2012 according to the Zeitgeist report, but not making the top ten list for either Egypt or Saudi Arabia. Another of 2012's global social memes, 'Kony 2012', also made it into the UAE's top ten list.
– Eight out of ten of the UAE's top searches were related to global (versus Arab) news and culture, versus only two for Saudi ('Hurricane Sandy' and 'Burma') and one for Egypt ('Burma').
– Six out of the UAE"s ten top searches were related to media, technology and entertainment, versus two for Saudi ('Arab Idol' and 'Ramadam Series 2012') and none for Egypt.
Egypt is preoccupied with national issues
– Eight out Egypt's top ten searches were related to national politics and the constitution, versus only one of of ten in Saudi Arabia ('Shura Council') and zero in the UAE.
Saudi Arabia searches for local, regional and global news
– Saudi's top ten searches arguably reflect more diverse interests in news and culture than Egypt or the UAE, with search terms in the top ten ranking searches related to Arab entertainment, national issues, issues in the Arab world and global news.
Marketers would do well to note the rankings of global campaigns for Apple's iPad 3, Samsung Galaxy S3, the London Olympics 2012 event, and the blockbuster movies The Avengers and Skyfall, all of which feature in the UAE's top ten searches, but none of which make the top ten in Egypt or Saudi Arabia. Online, as much as in real life, different rules apply for different countries when it comes to consumer tastes, attitudes and habits across the Arab world.
References
Google Zeitgeist 2012 Online Report
Google Zeitgeist 2012 List Download (PDF)
A Year in UAE's Search: Google's Top Searches of 2012 (via Zawya.com)
A year in UAE search: Google's top searches of 2011  (via Zawya.com)
A Year in UAE Search: Google's Top Searches of 2010 (via Zawya.com)
Tags: Arab, Arab World, brands, Carrington Malin, Dubai, Egypt, Facebook, google, Google Search, marketing, MENA, Middle east, PR, public relations, research, Saudi, Saudi Arabia, search, seo, UAE