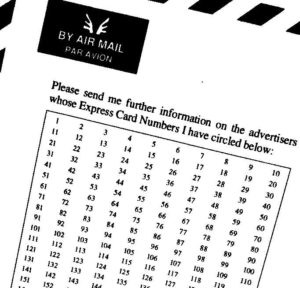 In the old days, we used to place advertisements in trade magazines. These often carried 'bingo cards' for advertisers to circle numbers corresponding to advertisements. These 'reader responses' were collated by the publisher and the contacts of interested readers were sent to advertisers for them to follow up with a brochure and perhaps a follow up call.
Many advertisers came to depend on the bingo card responses as a metric: if the ad generated, say, a hundred leads then the thousand bucks it cost gave a cost per lead of $5. Of course, the quality of these leads could vary very widely indeed and many companies probably didn't follow them up well enough.  In fact, the vast majority of readers didn't bother to use the bingo card at all in favour of making direct contact with the advertiser or, more likely, not responding to them at all because they simply weren't relevant to that reader at that time.
As a metric, the bingo card wasn't, well, very good. And it was just as useless as a sales lead conversion tool. But it was all we had.
Now, of course, we can use our spangly new social networks. We can pay to advertise with Twitter or Facebook and get Follows and Likes from people. Unlike the lottery-like game of traditional advertising, Twitter and Facebook will charge you per Follow or per Like, so you only pay for what you get. In fact, PPC – or Pay Per Click – is pretty much how Internet advertising works. You only pay for an action generated as a result of your advertisement, although you can also pay for impressions (PPM) if you are so inclined, which means you're paying for eyeballs, not clicks.
There's an argument that a Follow is more powerful than a Like (and vice versa), but both are undoubtedly more powerful than a click. But they're all the cost of acquisition of a lead, an invitation to treat rather than the end of the process. Like those bingo cards, they're valuable property, because someone's just said, 'I'm interested in talking to you'. The danger, as with bingo cards, is companies failing to realise that there's a load more work to do to turn that interest into action.
So an online ad campaign budget isn't just down to paying for the media and the clicks, but also paying for what comes after – the follow-up and engagement. And unlike the old days, an advertisement isn't a one-off, transitory thing to be forgotten about once the issue date has elapsed. Because you've actually said to someone 'I want to talk to you' and they've said 'Sure'  and now you're standing in a room together and they have an expectant smile which is soon going to start wobbling if you don't actually pull through with the goods.
We have really swapped media here. As the cost of online advertising increases, we're going to start to see real pressure building for campaigns to be evaluated, for metrics to prove we're not wasting the money. Although online is heavy on metrics, the important part of the campaign is increasingly not going to be on the cost per click, but the investment beyond that click and the effectiveness of the content and conversation management that turns that circle on a bingo card into a customer. What's really changed, is the conversation doesn't stop. And that's where real investment comes in before you ever seek one single Like or Follow…
Read more about digital marketing
Ooredoo or just plain redo? (February 2013)
Has the Arab Spring turned into a torrent of cash? (January, 2013)
Communication first, technology second (April 2012)
Facebook down – thousands of brand pages inaccessible (Mar 2012)
We are all publishers (Mar 2012)
Should you outsource your conversation? (Jan 2010)
The Sustainable Corporation (Sep 2010)
Listen to podcasts about digital marketing
Ecommerce in the Middle East (Dubai Eye, May 2012)
Online advertising in the Middle East (Dubai Eye, Feb 2012)
Watch video on digital marketing
Social media marketing in the UAE (Dubai One TV, Feb 2012)
Connect with us
'Like' Spot On PR's Facebook page
Sign-up for reports & updates
If you would like to receive reports and updates from time-to-time by email click here to join Spot On PR's mailing list.
Contact us
If you would like help planning your 2013 digital campaign contact us now.
Tags: advertising, analysis, clicks, conversation, conversion, Follows, Likes, marketing, Measurement, PPC, PPM, sales