Tag: activism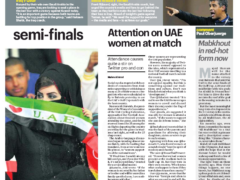 The latest in a long line of Twitterpower case studies came last week with the news piece in The National highlighting Twitter outrage at the decision to send 25 Emirati women to Bahrain to watch the UAE play Bahrain in the Gulf Cup. The prevailing tide of expressed opinion was strongly against the activity, rallying […]
It's today's marketer's nightmare. You're alerted to an outburst of negative sentiment towards your brand on social networks. Worse, it has some legitimacy. You don't know how big it's going to get, you don't know how long it's going to continue and it's impossible to forecast the impact on your business. Yesterday's UAE Twitter campaign targeting […]
Tag: activism

The latest in a long line of Twitterpower case studies came last week with the news piece in The National highlighting Twitter outrage at the decision to send 25 Emirati women to Bahrain to watch the UAE play Bahrain in the Gulf Cup. The prevailing tide of expressed opinion was strongly against the activity, rallying […]

It's today's marketer's nightmare. You're alerted to an outburst of negative sentiment towards your brand on social networks. Worse, it has some legitimacy. You don't know how big it's going to get, you don't know how long it's going to continue and it's impossible to forecast the impact on your business. Yesterday's UAE Twitter campaign targeting […]

OK

The server encountered an internal error or misconfiguration and was unable to complete your request.

Please contact the server administrator, webmaster@spotonpr.com and inform them of the time the error occurred, and anything you might have done that may have caused the error.

More information about this error may be available in the server error log.

Additionally, a 500 Internal Server Error error was encountered while trying to use an ErrorDocument to handle the request.