Read about GITEX Digital Strategies 2014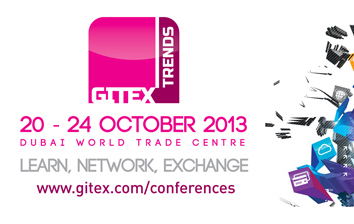 Spot On's Alexander McNabb will be chairing the Digital Strategies Forum in Dubai next week, which takes place on Wednesday 23 October 2013 during GITEX Technology Week 2013.  The conference agenda will take delegates through global digital consumer trends, digital marketing strategy and planning, customer relationship management (CRM), mobile marketing and ways to increase customer engagement.
Alexander will also be presenting 'Building an effective digital strategy' at the forum, during which he aims to provide some insights on how to start developing your digital strategy, what disciplines to consider and how to approach metrics and measurement.
You'll find the full agenda and list of speakers for the Digital Strategies Forum on the GITEX website here and you can register to attend the conference (at a cost of AED 1,495) here. Meanwhile, if you'd like to connect with the speakers and panelists attending the Forum, here's a list with their Twitter and Linkedin links!
Digital Strategies Forum Speakers & Panelists
Alexander McNabb
Director, Spot On PR 
Danny Karam
Principle, Booz & Company 
Nadia Gonzalez
Vice President at Mobile Marketing, Gemalto 
Rajen Lakhani
CMO, Gamified Labs 
Juan Dela Torre
Vice President, Intigral  
Gail Livingstone-Potter
General Manager, ExpatWoman.com  
Amro Khoudeir
Digital Marketing Manager, Jumeirah Group  
Kate Fairhurst
VP of Global Partnerships, ScribbleLive  
Derrick Pereira
Digital Solutions Manager, Explorer Publishing 
Eamonn Carey
Head of Digital/Advisor, MHP Communications  
Omar Ali Marosh
IT Specialist, Ajman Land & Property Department
Julien Chenelat
Digital Lead, Deloitte Middle East  
Tom Roychoudhury
Chief Innovations Officer, MCN  
Martin Kubler
General Manager, Iconsulthotels  
Graham Thomas
Founder of Radical  
Hijazi Natsheh
Head of Marketing, Cleartrip  
Brendon Ogilvy
Regional MD-MEA, Effective Measure  
Tarek El Goweiny
General Manager, NCC Group  
Sanjay Sharma
Principal Architect, Emirates Group IT  
Ahmed El Rayes
Founder and CEO, Gamfield Labs 
The Digital Strategies Forum is sponsored by Gemalto
 and ScribbleLive 
* Speakers and panelists are listed above in order of appearance on the GITEX Digital Strategies Forum Agenda. 
If you're a Twitter users, do check out @spotonpr's Twitter list of speakers and panelists and if you're tweeting about or from the forum, please hashtag #GITEXDigital.
Updated 22 October 2013
Contact us
If you'd like to contact Alexander McNabb about the Digital Strategies Forum, you can do so via email at alexanderm(at)spotonpr(dot)com or via Twitter at @AlexanderMcNabb.
Read about GITEX Digital Strategies 2014
Read more about digital marketing
Create more compelling content (September 2013)
The problem with content (August 2013)
Time to revisit your brand positioning? (July 2013)
Counting clicks (June 2013)
Intelligent use of social media (June 2013)
Are you being genuine? (May 2013)
A modern marketing manifesto (April 2013)
Tags: advertising, Alexander McNabb, Conference, CRM, digital marketing, Dubai, GITEX, marketing, social media